This Hanging Porch Bed is sturdy and beautiful, and one of the best purchases we've ever made.
Fort Mill, South Carolina
Love my Swinging Porch Bed. Great quality, great customer service. This is true craftsmanship and old fashion one-on-one attention.
Jupiter, Florida
Our Hanging Porch Bed was featured in Country Living Magazine in June 2011. Photo taken at the home of long time customers Archy and Robin Lowe.




I have to tell you that this porchbed is one of the best investments we have ever made. Everyone loves it!
Atlanta, Georgia

My clients have thoroughly enjoyed their Swing Bed. You are very talented.
Atlanta, Georgia

I LOVE my porch bed! My family gave it to me for my birthday, and it is one of the best gifts I have ever received. We use it morning, noon and night! It is the best place for an afternoon nap and hanging out with my children.
Charlotte, North Carolina
Our swinging porchbed is the focal point of the living room and my absolute favorite piece of furniture in the house.
Dunwoody, Georgia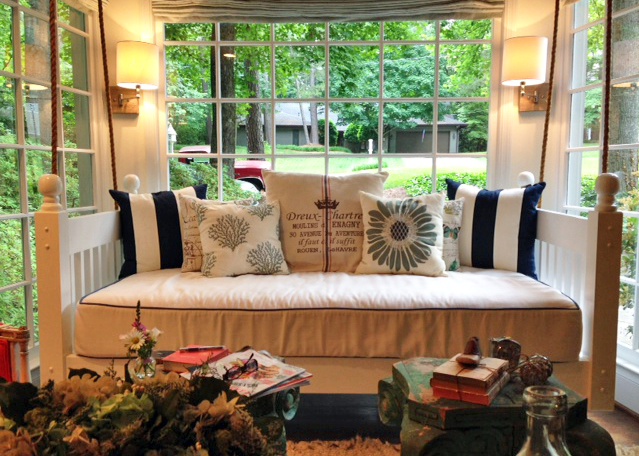 This is where I sleep when the weather permits. I am the envy of all my friends. Thank you so much for making this lovely swinging porch bed.
Kennesaw, Georgia
This Porch Bed completed my porch, and I get so many compliments on it!
Gainesville, Georgia